DUPIXENT can be injected into the thigh, stomach (except for the 2 inches around the belly button), or outer area of the upper arm (if caregiver injects). A different site should be chosen each time DUPIXENT is injected.
Use DUPIXENT exactly as prescribed. Your healthcare provider will tell you how much DUPIXENT to inject and how often to inject it.
Follow your healthcare provider's instructions and read the Instructions for Use for full details on preparation, administration, and disposal of your injection.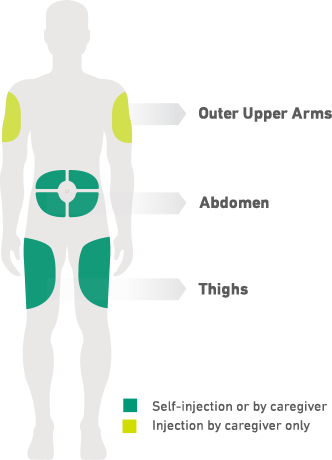 GET THE PRE-FILLED SYRINGE (AGES 6+ MONTHS) INSTRUCTIONS FOR USE
EMAIL YOURSELF THE 200 MG INSTRUCTIONS FOR USE
DOWNLOAD 200 MG
INSTRUCTIONS FOR USE
EMAIL YOURSELF THE 300 MG INSTRUCTIONS FOR USE
DOWNLOAD 300 MG
INSTRUCTIONS FOR USE
GET THE PRE-FILLED PEN (AGES 2+ YEARS) INSTRUCTIONS FOR USE
EMAIL YOURSELF THE 200 MG INSTRUCTIONS FOR USE
DOWNLOAD 200 MG
INSTRUCTIONS FOR USE
EMAIL YOURSELF THE 300 MG INSTRUCTIONS FOR USE
DOWNLOAD 300 MG
INSTRUCTIONS FOR USE