WHY DUPIXENT
DUPIXENT is a biologic. This means that it is a type of specialty medicine that is processed in the body differently than oral or
topical medications. Biologics are used to treat a variety of conditions, including chronic inflammatory diseases that affect
your immune system. To be effective and work in the body properly, most biologics are delivered by injection.
Things to consider when talking to your doctor:

HELPS REDUCE INFLAMMATION
DUPIXENT helps block a key source of inflammation
by targeting a root cause of your condition.
NOT A STEROID OR IMMUNOSUPPRESSANT
DUPIXENT doesn't broadly suppress
the immune system.

CONTINUOUSLY TREATS EVEN
IN BETWEEN SYMPTOMS
DUPIXENT is a proactive treatment that helps
keep you one step ahead of your symptoms.

NO INITIAL OR ROUTINE BLOOD WORK
REQUIRED, PER PRESCRIBING INFORMATION
SAVINGS & PATIENT SUPPORT
DUPIXENT MyWay® is a patient support program designed to help you get access to DUPIXENT and help eligible patients cover the out-of-pocket costs of DUPIXENT. The DUPIXENT MyWay program also provides useful tools and resources to help you stay on track with your treatment.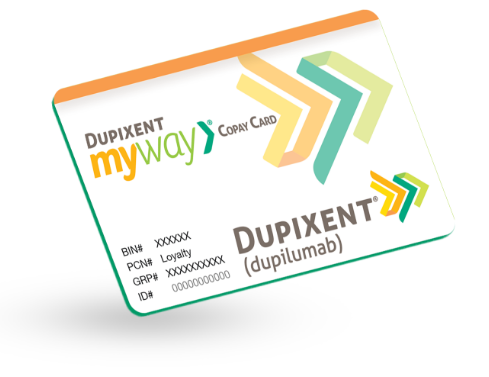 THE DUPIXENT MyWay COPAY CARD
The DUPIXENT MyWay Copay Card may help eligible
patients cover the out-of-pocket cost of DUPIXENT. If
you're eligible, you can sign up online or by phone and
your card will be sent to you via email. Terms &
Restrictions apply.
THE DUPIXENT MyWay PROGRAM
The DUPIXENT MyWay patient support program is here
to help you at every step of your DUPIXENT treatment
journey. Enrolled patients receive:
One-on-one support from our DUPIXENT MyWay
support team
Help understanding insurance coverage
Financial assistance (for eligible patients only)
Help scheduling deliveries
Virtual, over-the-phone, or home injection training
Stay Connected
with DUPIXENT
Sign up now to receive emails and resources
designed to help patients, caregivers,
and
information seekers throughout the
DUPIXENT treatment journey.
SIGN UP