Based on clinical trials with 240 adult
and pediatric patients (12+ years)
with EoE at Week 24
---
A Breakthrough
Treatment for
EoE
Eosinophilic esophagitis (EoE) is a chronic condition that can damage the esophagus over time. People with EoE
have more inflammation than normal in the esophagus, leading to difficulty swallowing and other symptoms.
Pills, slurries, and food elimination diets may provide symptom relief.
DUPIXENT helps reduce EoE symptoms.
The First and only FDA approved treatment
option for E
o

E

DUPIXENT was studied in a pair of 24-week clinical trials with adults and pediatric patients aged 12-17 who weigh at least 88 lb (40 kg) with eosinophilic esophagitis (EoE), most of whom had a history of prior use of swallowed topical corticosteroids for the treatment of EoE.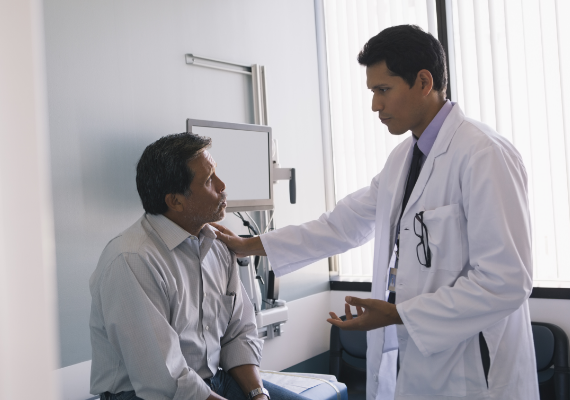 Have a productive
Conversation
With
Your Doctor
Our goal is for you or your loved one to get the most
out of your visit to your doctor. Download this doctor
discussion guide to help yourself have a productive
conversation during your next visit.
Email your guide
Download your guide
DUPIXENT MyWay

®


Copay Card
The DUPIXENT MyWay Copay Card may help eligible patients cover the out-of-pocket cost of DUPIXENT. If you're eligible, you can sign up and your card will be sent via email. Terms & Restrictions apply.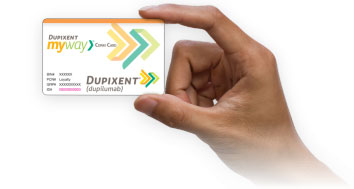 Find a specialist who
treats

EoE
Use this Healthgrades™ tool to easily find
nearby
specialists with experience in
treating patients
suffering from
Eosinophilic Esophagitis (EoE).
Sanofi US and Regeneron do not endorse or recommend any
particular physician, and search results do not include a
comprehensive list of doctors in your area.