Living with
EoE
Eosinophilic esophagitis (EoE) is a chronic and progressive condition in which immune cells (eosinophils) build up within the esophagus. This buildup is associated with an abnormal response of the immune system, known as Type 2 inflammation. Over time, this can cause damage to the esophagus.
How Inflammation Affects the Esophagus
Normal esophagus
Eosinophil buildup
causes inflammation
Inflammation leads to
difficulty
swallowing
and other symptoms
of EoE
EoE

is a chronic and progressive disease
WHAT ARE THE SYMPTOMS of
EoE

?
Physical SYMPTOMS
Difficulty swallowing (dysphagia)
Food getting stuck in the esophagus (impaction)
Choking
Vomiting
Chest pain/heartburn even after taking proton pump inhibitors (PPIs)
COPING CLUES
Cutting food into small bites (the size a toddler could eat)
Avoiding certain foods
Avoiding social occasions that center around eating
Blending food
Adding sauces or dips to food
Eating slowly, chewing excessively
Drinking water with food
EoE can be misdiagnosed as food allergies or GERD
(gastroesophageal reflux disease).
EoE

PATIENT PROFILES

We know living with EoE can be complex and sometimes feel overwhelming. Here are a few profiles
of patients who may be
facing similar challenges from EoE and use DUPIXENT
for treatment. These are not actual patients.
---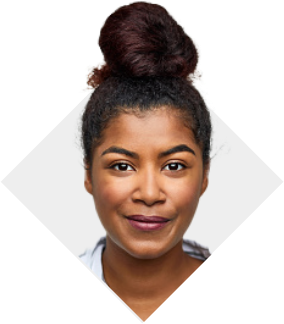 Susan, 27
PERSISTENT FLARE-UPS DESPITE
MANAGING HER EoE WITH PPIs
Preschool Teacher
Baker, home-based caterer
Susan loves nothing more than creating elaborate meals and hosting great dinner parties for coworkers. Unfortunately, her EoE flare-ups have made it difficult to enjoy these activities, despite managing her EoE with PPIs. Susan feels as though her difficulty swallowing has gotten worse and could reach the point of food getting stuck.
How Susan copes
Takes small
bites
Eats slowly and
chews food well
Background and Symptoms
Diagnosed with EoE at 21 years old
First flare-up occurred at 10 years old
Struggles with swallowing food,
heartburn, and chest pain
Avoids eggs and wheat
Treatment Goal
Hopes to eat food with less difficulty
swallowing
---
Learn how to start the conversation
to see if DUPIXENT is right for you.
Explore discussion guide

Mark, 34
STRUGGLES WITH A
RESTRICTED DIET
Financial Manager
Bowler, sports lover
Mark spends most of his spare time bowling and is a member of an amateur bowling league, where many of his buddies play and socialize. Sadly, a restricted diet due to his EoE symptoms and multiple food allergies makes socializing a challenge when food is around.
How Mark copes
Drinks excessive fluids
to get food down
Covers food
in sauces
Background and Symptoms
Diagnosed with EoE at 25 years old
Experienced symptoms at 15 years old
Trouble with swallowing and food
getting stuck
Avoids dairy, soy, eggs, and nuts
Previously had esophageal dilation
Treatment Goal
To swallow food more easily
---
Learn how to discuss your treatment
goals with your doctor.
Explore discussion guide

Jack, 15
SEEKING AN OPTION
OTHER THAN
PPIs,
STEROIDS, AND
DIETS
Student
Gamer, YouTuber
One challenge in Jack's life is that he's now living with EoE and is on a diet to avoid foods that could trigger his flare-ups. Jack's EoE symptoms make it tough for him to eat around his buddies. Jack is on food trials and PPIs but still complains of trouble swallowing and stomach pains. He needs an alternative.
How Jack copes
Avoids events centered
around eating
Cuts food into
small bites
Background and Symptoms
Diagnosed with EoE 5 months ago
Experienced symptoms 2 years ago
Battles with swallowing food, vomiting,
and stomach pain
Avoids wheat and dairy
Treatment Goal
Enjoy foods without fear of choking
---
Find out how to talk about your
symptoms with your doctor.
Explore discussion guide
Explore more
patient profiles
Who Can Treat
EoE

?
EoE

REQUIRES THE HELP OF SPECIALISTS
WHO UNDERSTAND IT.

If you, or your Healthcare provider think you have EoE, you
should make an appointment with a Gastroenterologist
(GI). They will be able to evaluate your symptoms and
order the tests to determine if you have EoE.

EoE symptoms may be mistaken for other conditions.
Getting the right diagnosis is the first step towards
managing symptoms.
HOW IS
EoE

DIAGNOSED?

A gastroenterologist (GI) does a procedure called an
"endoscopy with biopsy" to determine whether a
person has EoE. The GI uses a thin tube to look at the
esophagus and take tissue samples. The GI may
diagnose EoE based on your symptoms, how the esophagus looks, and the number of eosinophils in the
tissue sample.
FIND A SPECIALIST WHO CAN TREAT EoE
Use this Healthgrades™ tool to easily find a nearby specialist with experience in treating patients suffering from eosinophilic esophagitis (EoE).
Sanofi US and Regeneron do not endorse or recommend any particular physician, and search results do not include a comprehensive list of doctors in your area.
Sanofi US and Regeneron do not endorse or recommend any particular physician, and search results do not include a comprehensive list of doctors in your area.
Have a productive
Conversation With
Your Doctor
Our goal is for you or your loved one to get the most out of your visit to the doctor. Fill out our personalized discussion guide to help yourself have a productive conversation during your next visit.
THE FIRST AND ONLY FDA-APPROVED
TREATMENT OPTION
Read about the benefits and risks of DUPIXENT, how DUPIXENT performed in clinical trials, and much more.
FREQUENTLY ASKED QUESTIONS
The most common symptoms of EoE are: 
Difficulty swallowing
Feeling of food being stuck
Heartburn and/or chest pain
The symptoms of EoE can often be different depending on patient age and children (ages 12-17) may have abdominal pain and vomiting.
These are the various treatments doctors may use to help treat EoE:
Biologics
Biologics are specialty medicines that are processed in the body differently than oral medicines or topical medicines. In order to be effective, and to work properly, most biologics are injectable medications. They target specific proteins that contribute to the disease and can help reduce EoE symptoms.
Proton Pump Inhibitors
Proton pump inhibitors are a class of medications that reduce stomach acid production. While commonly used for EoE symptoms, PPIs are not an FDA-approved treatment for EoE.
Swallowed Topical Steroids
In EoE, topical steroids are swallowed to act directly on the esophagus to help dampen inflammation. Topical swallowed corticosteroids are not FDA approved to treat EoE.
Esophageal Dilation
This procedure occurs during an endoscopy and opens the esophagus by stretching it out.
Researchers are not certain about the exact cause of EoE. However, foods such as dairy, wheat, egg, soy, nuts, and seafood are recognized as the most common triggers for EoE.