NO ES UN INHALADOR.
NO ES UN ESTEROIDE.
Tu dosis inicial de DUPIXENT son 2 inyecciones debajo de la piel (inyección subcutánea) en diferentes puntos de inyección. Después de eso, se toma como 1 inyección en semanas alternas, en diferentes puntos de inyección.

Si tu médico decide que tú o tu compañero de cuidados médicos pueden administrar las inyecciones de DUPIXENT, deberán recibir capacitación sobre la manera correcta de preparar e inyectar DUPIXENT. No intentes inyectar DUPIXENT hasta que tu médico te haya demostrado la forma correcta. En personas de 6 años o más, se recomienda que un adulto coloque o supervise la administración de DUPIXENT.
BENEFICIOS CON CADA RESPIRACIÓN
Mejora la función pulmonar para que puedas
respirar mejor en apenas 2 semanas
Ayuda a prevenir ataques
de asma severos
Puede reducir o eliminar por completo los
esteroides orales
IDENTIFICA LAS SEÑALES DE CONTROL
A continuación, te presentamos algunos factores clave que podrían indicar que tu asma persistente, de moderada a grave, no está bien controlada:
¿Te suena familiar algo de esto?
Habla con tu médico hoy mismo
HABLA CON TU MÉDICO SOBRE DUPIXENT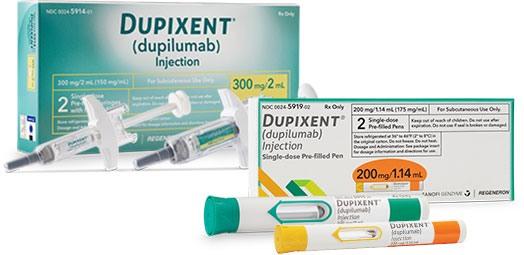 Recursos de apoyo para el paciente
Consejos y herramientas útiles que te ayudarán en el camino
Capacitación complementaria para la inyección
Ayuda para programar entregas mensuales de tu medicamento recetado
Recursos de apoyo útiles para DUPIXENT
Enfermeros/as que te ofrecen apoyo individualizado para DUPIXENT

DUPIXENT is given as an injection under the skin (subcutaneous injection) into different injection
sites. You must be shown the right way by your healthcare provider before injecting DUPIXENT.
Habla con nuestros Enfermeros Educadores bilingües de DUPIXENT MyWay®. Para preguntas y apoyo, llama al 1‑844‑DUPIXENT (1‑844‑387‑4936), y elige opción 1 para soporte, luego opción 2 para hablar con un representante que habla español.
Para aprovechar todo lo que DUPIXENT MyWay tiene para ofrecer, completa el formulario de inscripción a continuación junto con tu médico.
TARJETA DE COPAGO DUPIXENT MyWay
La tarjeta de copago DUPIXENT MyWay podría ayudar a cubrir los gastos de bolsillo para DUPIXENT para pacientes que tengan seguros de salud comerciales.
Para verificar si eres elegible, llama a nuestro equipo de apoyo bilingüe al 1‑844‑DUPIXENT (1‑844‑387‑4936), y elige la opción de apoyo, luego la opción 2 para hablar con un representante que habla español.
¿Quieres saber más sobre el costo de DUPIXENT?
Consulta la Información de Pago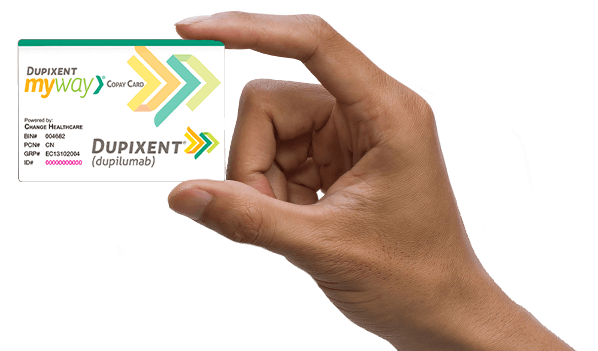 HABLA CON TU MÉDICO PARA AVERIGUAR SI
DUPIXENT ES ADECUADO PARA TI.
Obtén más información leyendo el folleto para el paciente antes de tu próxima consulta con tu médico.