SIGN UP TO SPEAK WITH A
DUPIXENT MyWay ® MENTOR
Ready to connect with actual patients and caregivers being treated with DUPIXENT? The DUPIXENT MyWay Mentor Program helps put current and prospective moderate-to-severe eczema (atopic dermatitis or AD) DUPIXENT patients in contact with people going through similar experiences.
Sign up today to speak with a Mentor—the form is quick and easy to fill out.
Topics covered include:
Journey to diagnosis
Treatment with DUPIXENT
Creating an injection routine
The Benefits of Talking
With a Mentor

Connect With Someone
As someone who may have been through something similar to what you are dealing with right now, our Mentors provide a great sounding board.

Ask Questions
This is a great opportunity to get answers to some of your questions from a Mentor who has experience living with or taking care of a loved one with moderate-to-severe eczema and learn about their DUPIXENT treatment plan.

Learn Helpful Tips
Let our Mentors share with you their success in creating an injection routine, or how they advocated for themselves or a loved one, among other tips.
Remember, it is always
important to talk to your doctor
about any treatment questions.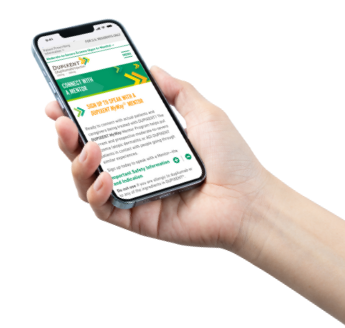 How to Get Started
Requesting a Mentor is quick and easy. Just fill out the
form, and we
will contact you within 24-48 business
hours. Once you're assigned a
Mentor, the calls can be
scheduled around your availability.*
Eligible patients or caregivers of a patient must be:
Diagnosed with uncontrolled moderate-to-severe eczema
(ages 6 months and older)
18+ years of age
Request a Mentor
*For more information, dial 1-844-DUPIXENT (1-844-387-4936),
option 5, Monday-Friday, 9 am - 9 pm ET
I enjoy being a Mentor because I get the chance to tell people that they are not alone in their eczema journey. I used to think I was the only person in the world with severe eczema, so I love being able to relate to people who feel the same way I felt.
-Chloe, DUPIXENT Patient Mentor, living with severe eczema
Talking with a Mentor was like talking to an old friend. She experienced many of the same things that I had in her journey with moderate-to-severe eczema and was very knowledgeable about DUPIXENT and the DUPIXENT MyWay program.
-Anonymous Patient Caller
My husband and I felt so alone and frustrated when our daughter was struggling with severe eczema. I want other caregivers to know that they are not alone. There is a community of people who know what they are going through and are there to help.
-Sue, DUPIXENT Caregiver Mentor, daughter has severe eczema
Previous
Next
Want More Information?
If you still have questions, you can speak with a DUPIXENT MyWay representative
or request to join the program over the phone.
For more information,
dial 1-844-DUPIXENT
(1-844-387-4936), option 5,
Monday-Friday, 9 am – 9 pm ET.